Genuine replacement filter
NanoProtect HEPA
FY1119


Genuine replacement filter
NanoProtect HEPA
FY1119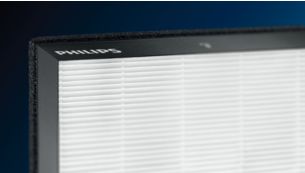 Perfect fit for consistently high performance
Genuine Philips filter was designed together with the device itself to ensure a perfect fit which guarantees the continuously smooth operation of the device.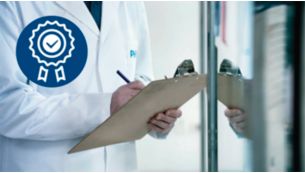 Philips filters ensure that your device works effectively
Philips air filters go through a set of mandatory and strict inspection tests before releasing from factory. They are subjected to rigorous life and durability tests, for continuous operation 24/7. Our filters are designed to provide the best performance of your Philips purifier until the last day of the filter's lifespan.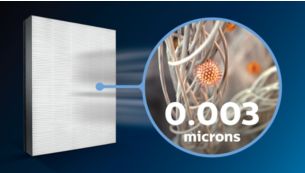 The NanoProtect HEPA filter cleans faster than H13 (4)
NanoProtect HEPA filter's low-resistance fibers maximize the airflow. The electrostatic charge attracts particles as small as 0.003 microns with 99.98% of efficiency, enabling the filter to clean the air faster than a medically used HEPA H13 filter (4)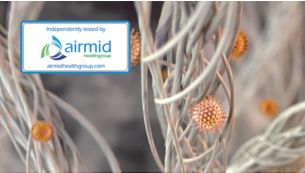 Up to 99.9% virus removal
The purifier captures aerosols including those which may contain respiratory viruses. Tested independently to remove up to 99.9% of viruses and aerosols from the air. Also tested for coronavirus (8).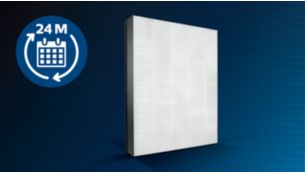 Up to 24 months of usage
Philips NanoProtect HEPA filter provides consistent protection and guarantees optimal filtration to up to 2 years. (1)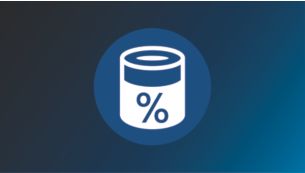 Follow the Smart filter status indicator on your device
Your Philips device notifies you when to clean your pre-filter and when to replace the filter. This takes less than a minute. The maintenance of the device is effortless to ensure that youalways enjoy clean, healthy air.
Technical Specifications
Weight and dimensions

Dimensions of product (LxWxH)

Dimension of packaging (LxWxH)

Weight incl. packaging

Weight of product

Design and finishing

Color(s)

Replacement

For Philips air purifier(s)

Performance

Particle filtration

Allergen filtration

Virus & aerosol filtration

Maintenance

Wash under water

Clean with a brush

Clean with chemical products
(1) Recommended lifetime is calculated based on the Philips users' average usage time and the WHO urban outdoor pollution level data. Actual lifetime is impacted by usage environments and frequencies.
(2) Only applicable for selected models with connectivity
(3) Only applicable in those countries where the Philips shop is available
(4) NanoProtect HEPA filter material provides lower air flow resistance than the material from a HEPA H13 filter, enabling a Philips air purifier with NanoProtect to deliver a higher Clean Air Delivery Rate (CADR) than with an equivalently-sized certified HEPA H13 filter
(5) From the air which passes through the filter, tested with NaCl aerosol by iUTA according to DIN71460-1.
(6) Contingent on the filter being used with AC1711 or 1715 Philips purifier
(7) Microbial Reduction Rate Test conducted at Airmid Health group Ltd. tested in a 28.5m³ test chamber contaminated with airborne influenza A(H1N1).
(8) Microbial Reduction Rate Test at external lab, in a test chamber contaminated with avian coronavirus (IBV) aerosols, with Philips HEPA NanoProtect filter.
Our site can best be viewed with the latest version of Microsoft Edge, Google Chrome or Firefox.