ProTouch
Stand Steamer
GC625/20


ProTouch
Stand Steamer
GC625/20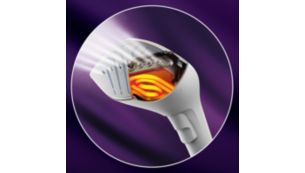 Dual Heating Technology
The innovative Dual Heating technology generates steam instantly at the base and reheats at the steamer head, for powerful penetrating steam, giving great results with no wet spots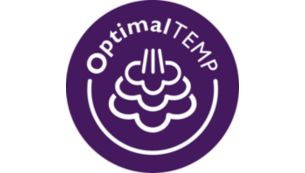 OptimalTEMP heated plate, guaranteed no burns*
Steamer plate is actively heated to provide better de-wrinkling results with no wet spots. With OptimalTEMP technology, it guarantees no burns on all ironable fabrics.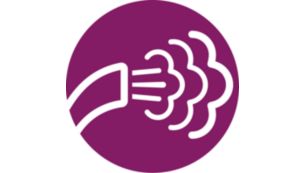 Powerful & continuous steam
90g powerful steam boost penetrates deep into garments while 35g/min of continuous steam enables effortless wrinkle removal, for great de-wrinkling results.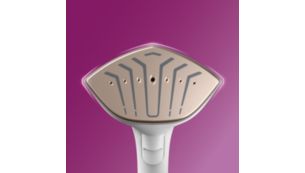 Triple precision tips on steam plate for challenging areas
The triple precision tips on the steamer head enable you to reach the challenging areas, such as the collar, the shoulder, and the in-between buttons, giving you precise results.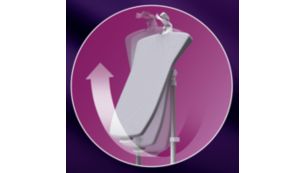 Stable tilting board with quick dry cover
It can be tilted 30°, giving stable and comfortable support to make pleats and achieve crisp results. The shoulder shape board provides a better fit for garments. Board comes with a quick dry cover with enhanced steam permeability and breathability. It is durable with high heat resistance.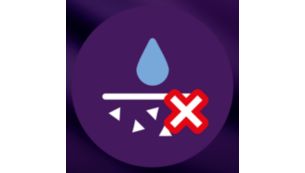 Maintenance free engine, no descaling needed*
Steamers need to be descaled regularly to ensure steam performance. Our new innovative engine prevents scale from building up, for long lasting steam performance.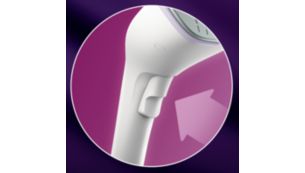 Easy steam selection (3 settings+ ECO) on handle
By pressing the steam selection button on the handle, you can easily change steam level for different fabrics - no need to bend down! Set your preferred steam level for optimal results on different fabrics. Use low steam for thinner fabrics and a more powerful setting for thicker fabrics and coats. Use ECO mode to save energy consumption.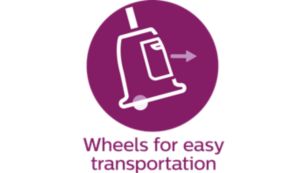 Wheels for easy transportation
Wheels enable user to tilt and drag the stand steamer from one place to another easily.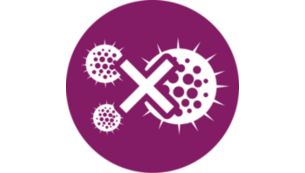 Steam refreshes garments and kills 99.9% of bacteria*
Hot steam refreshes garments and kills up to 99.9% bacteria*. Less frequent washing and dry cleaning saves time and money, and helps clothes last longer.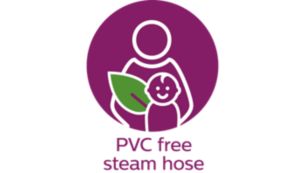 PVC free hose
The steam hose is a safe and healthy choice for use with steam. As the safety and health of your family is important, no PVC is used in the steam hose.
Automatically switches to standby mode for peace of mind
The steamer automatically switches to standby mode when the water tank is empty, so you have peace of mind even if you forget to switch it off.
Technical Specifications
Storage

Integrated wheels

Easy to use

Water tank capacity

Detachable water tank

Refill any time during use

Tap water suitable

Power cord length

Precision steam tip

Select steam level from handle

Special water inlet

Auto shut off

Safe on all fabrics

PVC Free Hose

Accessories included

Adjustable pole

Glove for extra protection

Guarantee

2 year worldwide guarantee

Technology

OptimalTEMP technology

For all ironable fabrics

No burns

Fast crease removal

Power

Steam boost

Continuous steam

Vertical steam

Voltage

Ready to use

Variable steam

Steam-on-demand

Pressure Bar

Green efficiency

Energy saving mode

Product packaging

User manual

Size and weight

Packaging dimensions (WxHxL)

Weight of iron

Board size (WxHxL)

Weight of board

Product dimensions (WxHxL)

Base dimensions : 32 x 45.2 x 34 cm

Cover size (WxHxL)

Total weight with packaging

Foam layer thickness

Cover thickness : 6 mm mm

Ironing surface

Weight of iron + base

Pole dimensions extended

Height from ground to shoulder tip of Hanger : 155 cm
On all ironable fabrics
tested to IEC protocol with hard water for 500 hours to simulate 5 years of usage.
tested by third party institute for bacteria types Escherichia coli 8099, Staphylococcus aureus ATCC 6538, Candida albicans ATCC 10231 with 1 minute steaming time (Technical Standard For Disinfection 2002-2.1.5)
Our site can best be viewed with the latest version of Microsoft Edge, Google Chrome or Firefox.