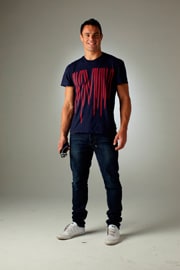 Dan Carter will be giving people an insight into how he expresses himself off the rugby pitch in his role as New Zealand brand ambassador for Philips electric shavers as part of Philips' broader Male Shaving and Grooming Express Yourself Every Day campaign.
While people tend to associate the star first five-eighth with his rugby, in the coming months Philips' campaign will reveal something extra about Dan Carter.
"It's great to be working with an iconic company like Philips and to be involved in the new campaign. Although I obviously play a lot of rugby, like everyone I have other interests and hobbies and this gives me a chance to show people another side of me," said Dan Carter.
Philips is a global leader in electric male shaving and grooming products and has been innovating male shaving and grooming since their first electric shaver, the 'cigar', in 1939.
"We're very excited to be working with Dan Carter. He's an inspirational New Zealander but also incredibly down to earth, and including him in our new campaign as we launch a number of exciting shaving products is going to be a great opportunity for us to engage with people through our Express Yourself Every Day campaign," says Nick Perry, Marketing Manager, Philips Consumer Lifestyle.
For those eager to get a glimpse of how Dan expresses himself, the new advertisements will appear in August.